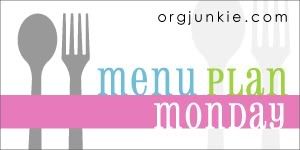 In keeping with my plan, I joined
Org Junkie
again this week for her Menu Plan Monday weekly round-up.
I planned for some things that I am really excited about trying this week. I also planned for some great lunch and breakfast items as my husband is home with us this week.
Sunday:
homemade manicotti
; homemade french bread
Monday: beef and black bean enchiladas (recipe coming soon); homemade corn tortillas; salad
Tuesday: barbacoa beef in the crock pot (variation of
this
); brown rice; plantain chips
Wednesday: leftover barbacoa beef; southwestern black bean salad (recipe coming soon)
Thursday: Shrimp fried rice; salad
Friday: turkey sausage, kale and white bean soup;
garlic swirl bread
My lunches include:
Chicken salad
pitas and Vegetable quiche
Breakfasts:
Apple Pie Muffins
Whole Wheat Pancakes with blueberry compote
Green Smoothies
I hope everyone has a fantastic week. The weather is supposed to be beautiful down in South Louisiana this week. I'm going to take every available minute to enjoy the weather with my family while my husband is home.