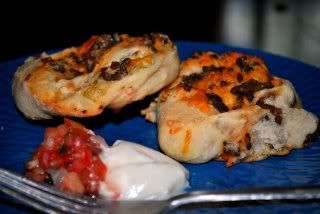 I had my doubts about these the first time that I made them. They were excellent...but putzy. Mama doesn't have time during the week to be putzing with lunch. I loved the flavor enough to give them a second try and this time, they were great all around. I used a different bread dough and they were much easier to handle. The recipe makes a ton and they are very filling, so one recipe will make lunch for a few days...which I love.
You could easily substitute refrigerated or frozen bread dough, but I love the texture and flavor of homemade dough. I haven't tried anything that could compare, but in a pinch the pre-made stuff will do. I would normally use whole wheat bread dough, but I ran out of whole wheat flour. Feel free to use your favorite whole wheat bread recipe.
The cream cheese/sour cream mixture cuts the spice of the taco seasoning and adds a creaminess that my kids really loved. The green onions added a fresh element and a crunchy texture.
Taco Rolls
makes 20-ish rolls
1 recipe
bread dough
1 lb. lean ground beef or turkey
1 package taco seasoning
2/3 cup water
1 1/2 cups cheddar cheese
4 oz. neufchatel cheese (1/3 less fat cream cheese), softened
2 T. light sour cream
2 green onions, chopped
Prepare bread dough according to recipe directions.
While dough is being prepared, brown ground beef or turkey in a large skillet. Drain the fat off and add 2/3 cup water and the entire taco seasoning packet. Stir until combined. Reduce heat and cook, stirring frequently, until the liquid is gone. Let cool completely.
Preheat oven to 375 degrees.
Turn the dough out onto a well floured surface. Roll the dough in a large rectangle, about 18 inches x 10 inches. If the dough is too spongey to roll, let rest a few minutes and try again.The dough shouldn't be too thin or it will tear. Aim for 1/4-1/2 inch all around.
Combine the cream cheese, sour cream and chopped green onions in a bowl. Spread over dough rectangle leaving a 1-inch border around the edge of the dough.
Top cream cheese mixture with ground beef and finally the cheddar cheese.
Roll up cinnamon roll style - starting with the long edge closest to you. Pinch the edges to seal.
Slice into 1/2-inch slices with a serrated knife. Some of the filling with inevitably fall out, so just stack it back on top of the roll after it is placed on the baking sheet. Place 2-inches apart on a large, greased baking sheet. Bake at 375 for 18-20 minutes or until golden and the dough is cooked through.