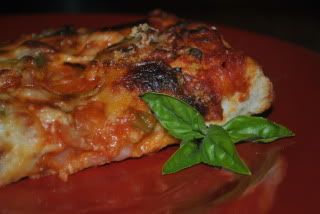 Doesn't that look amazing?
I say perfect homemade pizza because I don't have access to an 800 degree brick oven. If I did, though, it would be the best pizza ever.
I've always been let down with my homemade pizzas. There was always some element that wasn't quite up to par and it left me wanting our favorite restaurant's pizza. This time, the stars aligned and it was delicious. I couldn't imagine spending the money to get it at a restaurant anymore.
The combination of toppings isn't important, though we do have our favorites. You can substitute what your family likes. The important parts are the crust, sauce and addition of roasted garlic. nom nom nom. The crust does take some time, so you need to plan ahead. It is best to make it the day ahead to really let the flavors develop. If you don't, it won't be the end of the world, but the results after letting it rest are out of this world.
The sauce is from scratch. I've tried to make it from scratch before and it was too tomatoey, too bland...this time, I used a recipe from Cooking Light and improved on it. I just can't even tell you how important a good sauce is. You will never go back to the jarred stuff after making this. I really think that it would work in the crockpot as well. Just throw all of the ingredients in a small crockpot and let cook on low for the day.
Andiamo a mangiare!
adapted from Cooking Light
1 cup warm water (100-110 degrees), divided
12 oz. bread flour (about 2 1/2 cups)
1/2 tsp. kosher salt, divided
Pour 3/4 cup warm water in the bowl of a stand mixer with dough hook attached. Weigh or lightly spoon flour into measuring cups; level with a knife.. Add flour to 3/4 cup water; mix until combined. Cover and let stand 20 minutes. Combine remaining 1/4 cup water and yeast in a small bowl; let stand 5 minutes or until bubbly. add yeast mixture, oil, and salt to flour mixture; mix 5 minutes or until a soft dough forms. Place dough in a large bowl coated with cooking spray. Cover surface of dough with plastic wrap lightly coated in cooking spray. Refrigerate for 24 hours.
Remove dough from refrigerator. Let stand, covered, 1 hour or until dough comes to room temperature. Punch dough down. Roll dough out to a 14x11-inch rectangle on a lightly floured surface. Press dough into bottom and partially up sides of a 13x9 inch metal baking pan coated with cooking spray.
inspired by Cooking Light
2 T. extra-virgin olive oil
5 cloves roasted garlic (learn how to roast garlic here - you will need two heads)
1 (28-ounce) can whole tomatoes (go for the good stuff. San Marzano, Tuttorosso)
Our favorite toppings include turkey pepperoni, green bell pepper, fresh tomato, red onion, mozzarella cheese, roasted garlic and fresh basil.
Preheat oven to 450 degrees.
Spread the cloves of one head of garlic onto the unbaked crust. Sprinkle 1 cup of shredded mozzarella over the sauce Spread pizza sauce evenly over cheese, leaving a 1/2 inch border. Arrange toppings as desired. Sprinkle with some chopped, fresh basil. Cover with 1 cup of shredded mozzarella cheese and a sprinkle of parmesan cheese. Bake at 450 degrees for 18-20 minutes or until crust is golden. Makes 8 very filling rectangles.
Whatever toppings you decide to use, do not forget about the roasted garlic crust or the fresh basil. They turn an ordinary pizza into a restaurant-quality, out of this world pizza.