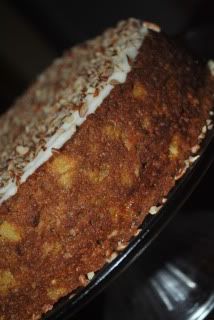 I brought this to a luncheon and it received rave reviews. I don't know if they fawned over it because it was legitimately good, or because they are my friends and they love me. It WAS excellent though. It wasn't too sweet and was incredibly moist. The cream cheese icing was great and the layer on top was just the right amount. If you prefer more frosting on your cake, you're free to ice the sides or just layer it up more on top. My family isn't big into icing and this was the perfect cake to frosting ratio for us. I was iffy on making the icing because it didn't include butter and I didn't know how it would hold up, but it was delicious and was very substantial. This will be my go-to spreading cream cheese icing, as I didn't miss the butter at all. The only consideration I might have is that it probably wouldn't pipe very well.
In the end, this is a flavorful, healthy, delicious take on a carrot cake.
Skinny Carrot Cake
adapted from Gina's Weight Watcher Recipes
makes 16 good-sized slices or 24 cupcakes
1 cup whole wheat pastry flour
1/2 cup all-purpose flour
1/2 cup granulated sugar
1/2 cup light brown sugar
1/4 cup flaked, sweetened coconut
2 tsp. baking soda
1 tsp. salt
1 1/2 tsp. ground cinnamon
1/4 tsp. all-spice
2 Tbsp. canola oil
2 large eggs
1 1/2 tsp. vanilla
2 cups grated carrots (I process mine in the food processor to make them less chunky)
20 oz. canned, crushed pineapple, drained
1/4 cup chopped pecans
Cream Cheese Frosting
8 oz. neufchatel cheese (1/3 less fat cream cheese), softened
1 cup powdered sugar
1 tsp. vanilla extract
1/4 cup chopped pecans
Preheat oven to 350.
In a large bowl, mix together the flours, sugars, coconut, baking soda, salt and spices. Stir well with a whisk.
In a medium bowl, combine the oil, eggs and vanilla. Stir well. Add grated carrots and pineapple and stir well. Combine the wet ingredients with the dry ingredients. Fold in pecans.
Spoon batter in a greased 8"x3" round cake pan. Bake at 350 degrees for 38-48 minutes. It is ready when it is firm to the touch in the center and the sides start to pull away from the pan. Cool cake completely before turning out of the pan.
To make the frosting:
Beat together the cream cheese, powdered sugar and vanilla. Ice cake when cool and top with pecans.