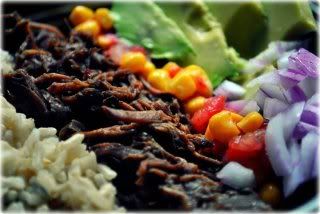 If I could eat this for every meal for the next two weeks, I would. It is so versatile. Roll it up in a burrito, put it over some lettuce for a salad, put over rice, add cheese, onions and salsa. It's spicy and full of flavor.
The heat tolerance in this family is pretty high. The baby would eat a lot of this as long as he had a cup of milk handy to wash away the lingering heat. Feel free to add fewer chipotle peppers if you don't like it quite so hot.
I served this two nights, the first night over brown rice with corn salsa, avocado and purple onion. The second night, I made
tex-mex black bean salad
and topped it with barbacoa. Both are equally delicious and had my husband coming back for seconds, thirds, fourths...every time he took more, he kept commenting on how great it was.
I chose to make this in a slow cooker. It would work in the oven too, but I'm not very hands on when it comes to adding more water to the roasting pan. I usually forget and my meat comes out looking more like a hockey puck than dinner. There is a bit of initial preparation, but then it cooks all day (and makes your house smell fabulous!). I used a trimmed sirloin tip roast, feel free to use your favorite cut or whatever is on sale that day. I love slow cookers because you can add a
shoe leather piece of meat and at the end of the day, it's melt in your mouth tender.
Beef Barbacoa
serves 10 generously
4 lbs. sirloin tip roast, trimmed of all visible fat
kosher salt
fresh cracked pepper
8 cloves of garlic
1/2 onion, quartered
4 chipotle peppers
3 T. adobo sauce (the liquid with the chipotle peppers)
1 T ground cumin
1 T. ground oregano
1/2 tsp. all spice
3 bay leaves
1 cup water
Place the garlic through the all spice in a blender or food processor (my mini food processor worked wonderfully) and process until it turns into a thick paste.
Season your roast liberally with salt and pepper. In a large skillet, brown roast on all sides (you may need to cut it into smaller pieces to fit into the pan).
Add the roast to slow cooker along with the spice paste, bay leaves and water.
It took 6 hours on high to get the meat to shredding consistency. It would probably take 8-10 on low.
When beef is tender, remove from slow cooker and shred with two forks. Add back to slow cooker to coat with juices.
Serve and enjoy!