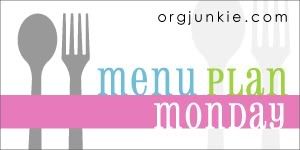 I've decided to join the Menu Plan Monday at
Organizing Junkie
. I'm usually good about getting my menus planned in advance, but there are some weeks that I drop the ball and we end up eating take-out. Take-out isn't good for my waist line or my pocketbook, so becoming a part of this is my motivation to make sure it gets done.
We're nearing the end of the month and looking to eat up what we have in the freezer, fridge and pantry before we go out shopping once again. I stocked up on meats earlier in the month, so I have plenty left.
My husband is also going through law school finals this week (good luck!) so everything has to be easy to prepare on a moment's notice. I have no idea when he will be getting home each day and when he does get home, he's starving!
Monday:
sweet and spicy chicken
in the crock pot (freezer meal), brown rice, tossed salad
Tuesday: quesadillas using leftover sweet and spicy chicken,
mexican rice
Wednesday: personal grilled pizza - toppings of choice, tossed salad
Thursday: Red beans and sausage, brown rice, tossed salad
Friday: Red beans and cornbread casserole - a variation of
this
using leftover red beans and sausage, broccoli slaw
Not a really impressive menu this week, but fast and healthy. Sometimes we all need a week off!