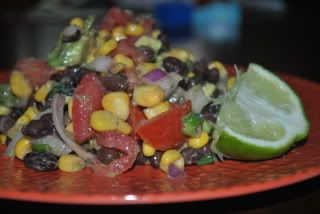 Summer is quickly creeping up on us here in Southern Louisiana which means it is time for cold food. Not heating up my house with the oven is another obstacle that I need to get around when it's time to feed the family. This salad has proven to be a favorite. It is on the menu at least once a week during the summer. It makes a really great light lunch and a great side to some grilled chicken for dinner. My husband also likes it as a midnight snack, but that doesn't say much about the dish. There aren't many things that man won't eat.
This salad is spicy, creamy and refreshing. It has enough protein and good fat to fill you up and keep you that way, yet is full of whole foods so it won't expand your waistline.
Tex Mex Black Bean Salad
serves 4 as a main course, 6 as a side
1 15.5 oz. can black beans, drained and rinsed well
1 tomato, chopped
1/2 jalapeno, chopped (optional)
1 10 oz. bag frozen corn, thawed
1/4 cup red onion, chopped
1 avocado, diced
3 green onions, chopped
small handful of cilantro, chopped
juice from 1 lime
1/2 tsp. cumin
salt and pepper to taste
Mix everything together except the avocado. Let chill for at least an hour and add the avocado right before serving to avoid browning.