I always like to start my week off on a good, healthy foot. Smoothies have been my go-to breakfast for a few weeks now. After some tweaking, I found a recipe that was excellent. It was sweet, packed with nutrition and it kept me full until lunch. I really like smoothies because they are an easy way to get in a lot of your fruit and vegetable servings and they don't weigh you down. I never feel like I should take a nap after a smoothie.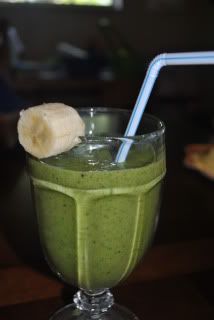 This recipe is a green smoothie. Don't let the color or the spinach throw you off. It packs a big nutritious punch and you can't even tell it is there.
You're getting so much Vitamin A, Vitamin C, Calcium, and Potassium with this smoothie. It is a great immune booster with all of the Vitamin C!
Also, as far as taste goes, I served it to the toughest of critics -- my kids. They both loved it and asked for more. My 3-year old loved the green color.
Green Smoothie
Serves 1
1/2 banana, peeled and broken into chunks
1/2 peach, frozen is fine
3 strawberries, hulled
1 kiwi, peeled and quartered
1 large handful raw baby spinach
enough liquid to get it moving (I usually use water, but you can use milk, almond milk, orange juice)
1/4 cup plain yogurt (feel free to substitute with flavored)
Put all of the fruits in the blender along with a little liquid. Pulse until smooth. Add baby spinach and, if necessary, a little more liquid. Pulse until well incorporated and the spinach is very finely chopped.
Add yogurt and pulse a few more times until mixed.