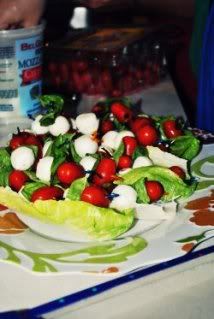 I made these as an adult snack for my son's 4th birthday party. They were such a hit! So very simple, but really tasty and fresh. It was a great way to showcase my garden's fresh basil and cherry tomatoes.
Caprese Bites
serves as many or as few as you wish!
basil leaves
cherry tomatoes
small, fresh mozzarella balls (or cubed mozzarella)
frilly toothpicks
Take one frilly toothpick, thread a mozzarella ball, a basil leaf and a cherry tomato onto it. Repeat.
See! Easy.