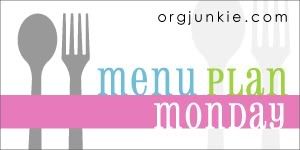 Our week went very much not as planned last week so I have a lot of rollover meals plus a few new ones. I've been trying to rebudget our household, so I'm trying to see how small I can make our food budget. To save on food costs, I'm planning many more meatless meals and meals that can be stretched into one or two more meals.
My son is turning 4 in less than two weeks and I think I might have overextended myself just a smidge with all of the things I've planned for it. I need to get his birthday banner finished! Our meals this week reflect just how little time I have until his party.
Monday: dinner out to celebrate my son's birthday with his grandmother.
Tuesday:
spinach and ricotta stuffed crespelles
, salad and
french bread
Wednesday: slow cooker pinto beans and sausage, brown rice, garden fresh green beans
Thursday:
stuffed bell peppers
, garden fresh cucumber and tomato salad
Friday:
spaghetti and meatball soup
,
garlic and parmesan pull-apart bread
Have a fantastic week! Enjoy that Summer heat!
For more great recipes, visit
OrgJunkie
.