This dressing is so amazing. It's cool and crisp with a kick from the poblanos. It's really great on salad, and also good with cut vegetables as a dip. I grow extra cilantro in the garden so I can make it a lot. It is so incredibly simple and comes together in minutes.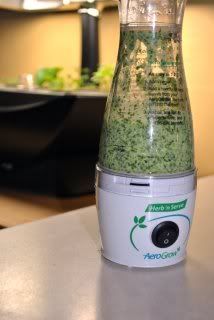 I picked up this little dressing blender after I got my AeroGarden. It's the absolute best gadget ever. seriously. Add your dressing ingredients, hit button, eat.
Creamy Poblano-Cilantro Dressing
Combine in a blender or food processor and pulse until smooth:
1 cup fresh cilantro
1/2 poblano pepper, seeded and quartered
1/4 cup plain yogurt
1/4 cup low fat mayonnaise (not miracle whip)
2 pinches of sugar
Use as desired....and you desire the adobo chicken salad I'm posting next!