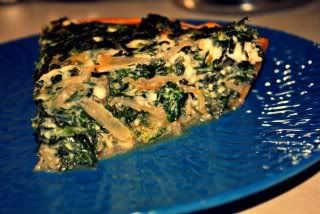 I found this recipe in an old issue of Cooking Light. The original version used canned breadstick dough for the crust and the filling rested on a bed of hashbrown potatoes. It seemed a little heavy for a mid-day lunch, so I doctored it up a bit. I also replaced the breadstick crust with a pie dough crust because I'm a traditionalist.
The outcome was so savory and yummy. My husband and kids split 4 pieces between them....and I wonder why I can't keep food in the house.
Spinach, Caramelized Onion and Feta Quiche
adapted from Cooking Light
serves 6
1 T. butter
2 onions, halved and sliced thin
1 tsp. sugar
1/2 tsp. kosher salt
1 10 oz. package frozen spinach, thawed, drained and squeezed dry
3 oz. feta cheese crumbles
2 large eggs
3 large egg whites
1 cup fat-free milk
1 prepared pie crust
Preheat oven to 350 degrees. Unroll pie crust and line a pie plate. Prick the bottom of the crust with a fork and bake for 10 minutes. Let cool.
In the meantime, melt 1 T. of butter in a large skillet over medium-low heat, add onions, salt and sugar. Cook, stirring frequently until golden - about 30 minutes.
In a large bowl, combine whole eggs, egg whites, milk, drained spinach, feta and caramelized onions. Pour into prepared pie crust and bake for 30-40 minutes or until egg is set in center. Let cool for 10 minutes before serving.