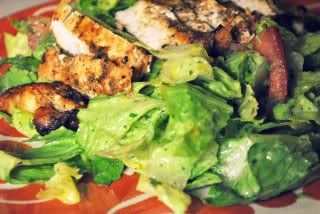 This is my go-to salad during the Summer. It's so light and crunchy, but the flavors really pack a fiery punch. The chicken is mildly spicy but the cool salad really balances it out and cools it down. The fruit in the salad keeps it refreshing. I have all kinds of ideas for this salad, including adding grilled peaches or nectarines. yum!
The chicken is best marinated for a full 24 hours, but in a pinch just an hour or two will do.
Adobo Chicken Salad
Serves 4 as a main course
For the marinade:
Combine in food processor and process until smooth:
3 cloves garlic, smashed
2 T. ground cumin
2 T. chipotle chili powder
2 T. dark brown sugar
3 T. kosher salt
3 T. freshly cracked black pepper
1/4 cup roughly chopped fresh oregano
1/4 cup roughly chopped fresh cilantro
6 T. orange juice
2 T. fresh lime juice (about 1 lime)
4 dashes hot sauce
2 T. olive oil
Pour over chicken breasts in a large, resealable bag and refrigerate until ready to use.
For salad:
1 lb. chicken breasts, marinated in above marinade and grilled
2 heads romaine lettuce, chopped
1 red bell pepper, julienned
1 15 oz. can black beans (optional)
1 avocado, diced
1 mango, diced
2 cups cherry tomatoes, cut in half
1 recipe poblano-cilantro dressing
Grill chicken, cover and let rest 10 minutes. slice thin.
Combine chopped romaine with bell pepper, black beans, avocado, mango and cherry tomatoes. Toss until thoroughly mixed.
Top with chicken and dressing.