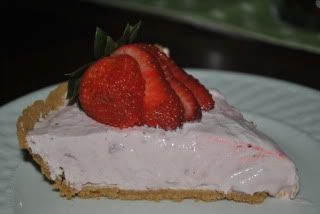 I wanted to call this a margarita pie, but there isn't any tequila..and let's face it, a margarita with no tequila is just a lime slushy.
So, I started out with a no-bake cheesecake recipe from
Gina's Weight Watcher Recipes
, which is seriously my favorite food blog right now. I obsessively check it to see if she has posted anything new. I've made a TON of things from it and they have all been phenomenal.
The original cheesecake was really good, but my husband isn't a huge fan of cream cheese (I have yet to figure out what planet he is from) so I knew that if I was going to make something that he would be excited about eating (read: I wouldn't have to eat the entire thing) I would have to jazz it up a bit. The end result was tangy and refreshing. It retained that creamy quality that I loved about the original, but had enough other flavors going on that it didn't overwhelm your mouth.
I think I just drooled a bit writing that. It is so, so good.
Strawberry-Lime No-Bake Cheesecake
Adapted from Gina's Weight Watcher Recipes
serves 8
8 oz. Cool-Whip Free (or whip your own heavy cream to stiff peaks, it won't be WW friendly this way)
8 oz. neufchatel cheese (1/3 less fat cream cheese), softened
9-inch reduced fat graham cracker pie crust (or make your own from the recipe
here
and just use Reduced Fat graham crackers)
1/4 cup sugar
1 tablespoon freshly squeezed lime juice
zest from one lime
10 medium strawberries, hulled and halved
The easiest way to make this is in a food processor. I will include a blender/hand mixer version as well.
In the bowl of your food processor with the S blade, add the neufchatel cheese, Cool-Whip, sugar and lime juice. Pulse until just blended. Add the lime zest and strawberries. Pulse until blended and smooth. Don't worry if there are some small chunks of strawberry, they end up being little surprises in each slice.
Spoon mixture into pie crust, cover and chill for at least 2 hours.
If you don't have a food processor, it is still easy, but just takes a few more steps. Add strawberries to blender with just enough water to get it moving. Pulse until smooth.
In a large bowl put cream cheese, Cool-Whip, sugar and lime juice. Whip with a hand mixer until fluffy. Fold in lime zest and strawberries. Continue as written.