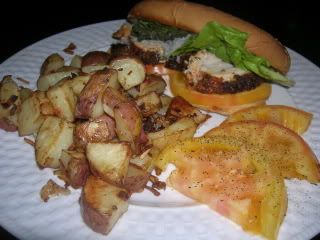 Talk about a satisfying sandwich! This sandwich is based on a Cajun Chicken Caesar Sandwich recipe from
Saving Dinner
by Leanne Ely. I love her cookbook. It was a Christmas gift from my Sister-in-law and I've used it religiously ever since. So much so that it is falling apart at the seams and I'm considering ditching the duct tape and having it rebound.
Spicy Chicken Caesar Sandwiches
serves 6

3 large boneless, skinless chicken breast halves
2 T. cumin
1 T. chipotle chili powder
1 tsp. garlic powder
1 tsp. onion powder
1/2 tsp. dried oregano (preferably mexican, but regular will do)
1 tsp. sucanat (crystallized sugar cane juice - if you don't have this, substitute an equal amount of brown sugar)
1/4 lb. peppered thick cut bacon, cooked
caesar dressing (use bottled or make your own - it doesn't make a lot of difference in this recipe)
romaine lettuce
Parmesan cheese
tomatoes (optional)
6 hoagie buns
3 T. butter
Parmesan cheese

Preheat oven to 400 degrees.

Combine the cumin, chili powder, oregano, garlic and onion powders and sucanat - rub on chicken breasts. Place on a baking sheet and roast until no longer pink and juices run clear - approximately 25-30 minutes.

Cut hoagie buns and slather 1/2 T of butter on the cut sides. Sprinkle a little Parmesan cheese on top of the butter and place cut side up in the oven until toasted - 5-6 minutes.

When the chicken is finished roasting, slice and assemble the sandwich. Spread some Caesar dressing on the toasted sides of the bun. Place a few slices of tomato and some lettuce on a bun, top with a slice or two of bacon and a few slices of chicken. Sprinkle with additional Parmesan cheese and serve.

I served this with fresh tomato slices and roasted red potatoes.