We are missing the Minnesota State Fair this year. Boo-hoo. In honor of it, I made Breakfast On A Stick for a special weekend brunch.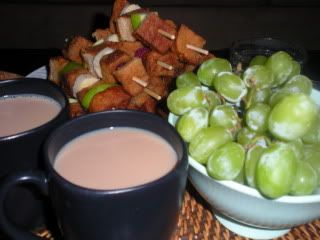 On a whim, I bought a giant box of french toast sticks at Sam's Club. The thing about Sam's, I never think about how I'm going to store the giant boxes when I get home. The french toast sticks took up three quarters of my freezer space. I only had space for ice. Instead of eating all of the chicken and steaks in one day, I decided to use up a bunch of the french toast sticks and this was a great way to do so.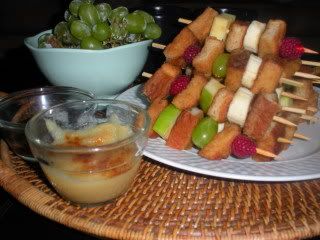 My son enjoyed it because it could be served and eaten in front of Curious George. Anything that doesn't take him away from cartoons is a big hit in his book. It was also sweet enough that it didn't need to be dipped, although I served it with both applesauce and real maple syrup.
French Toast and Fruit Skewers
serves 4
30 french toast sticks or 6 pieces of french toast cut into 5 pieces, cut those sticks into thirds
fresh fruit (I used grapes, bananas, raspberries and granny smith apples)
wooden skewers, halved
Cut or break skewers in half.
alternate pieces of french toast with pieces of fruit.
Serve with apple sauce and/or syrup for dipping. Jam would be good as well!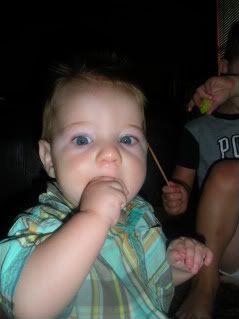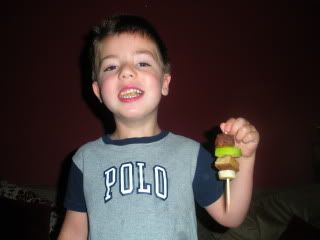 big
hit!