It is that time of year again. Time for short days and brisk evenings. Time for hearty, full-flavored foods.
The star in this chicken marsala is the mushrooms. Slowly simmered in the marsala until they soak up every last bit of flavor. I could eat a plate of them by themselves.
The chicken stays moist and falls apart at the touch of a fork. No knives necessary.
With this recipe, err on the side of caution and make more than you think you should. It will be eaten.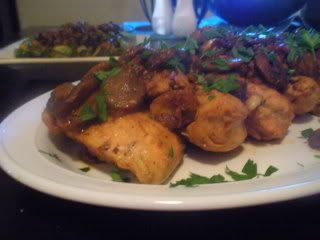 Chicken Marsala
serves 6
6 boneless, skinless chicken breasts
1 1/2 T. olive oil
3 T. salted butter
1 onion, sliced thin
1 lb. white mushrooms, sliced thin
1/2 cup marsala wine -- use real marsala wine for the best flavor, avoid the cooking wine. The differences of flavor are inexplicable.
1 cup chicken stock
minced fresh parsley for garnish
Pat chicken dry and season with salt and pepper. In a large heavy skillet heat oil and 1 1/2 tablespoons butter over moderately high heat until hot but not smoking and brown chicken in 2 batches, transferring with tongs to a large plate as browned.
Discard all but 1 tablespoon fat from skillet and sauté onion and mushrooms, stirring occasionally, until liquid mushrooms give off is evaporated. Add Marsala and cook mixture, stirring, until Marsala is almost evaporated. Add broth and chicken with any juices that have accumulated on plate and simmer, turning chicken once, until cooked through, about 15 minutes. Transfer chicken with tongs to a platter.
Simmer mushroom sauce until liquid is reduced to about 1/2 cup. Remove skillet from heat and stir in remaining 2 tablespoons butter and salt and pepper to taste, stirring until butter is just incorporated. Spoon mushroom sauce around chicken and sprinkle with parsley.