Tonight was my 3 year old son, C1's turn to choose what we had for dinner. It was a mighty big leap of faith to let him choose - there is no telling what we will end up having. Last time I let him choose, he wanted toothpaste and toddler vitamins. I'm sure it would have tasted fantastic. When he chooses real food, it is almost always mexican - or spaghetti. Tonight he chose the best of both worlds with Taco Stuffed Pasta Shells. I first found the recipe on
Blog Chef
and modified it just a bit to suit our tastes (and what we had on hand).
This is ultimate kid food. Easy, quick to prepare and fun! It is small enough that they can hold it in their hands (after it cools of course) - which makes it fun finger food for lunch the next day. C1 can prepare a lot of it by himself (save for the parts that need to be done on the stove or in the oven) and really likes to crush the chips over the top.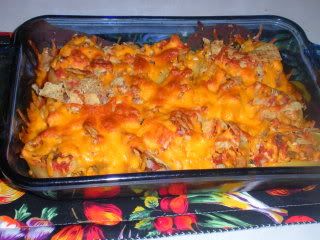 Taco Stuffed Shells
Serves 4



1lb ground beef (or ground turkey, I usually use whichever is on sale)


1 package taco seasoning (I make my own and just use 1/4 cup, recipe here)
1 4 ounce package neufchatel cream cheese (1/3 less fat cream cheese)


12 large pasta shells


1 cup salsa (I usually make my own, my favorite salsa recipe is here)


1 cup taco sauce (I use Rotel if I don't have taco sauce on hand)




1 cup cheddar cheese (shredded)




1 cup Monterey jack cheese (shredded)




1 ½ cups tortilla chips (crushed)


shredded lettuce, tomatoes, chopped black olives, onions, sour cream, etc. for garnish

In large skillet, brown ground beef. When browned, add taco seasoning and 1/2 cup water. Add neufchatel cheese and stir occasionally until melted and thoroughly incorporated. While the ground beef is browning, put a large pot of water to boil and prepare pasta shells according to manufacturers instructions. Set both aside to cool.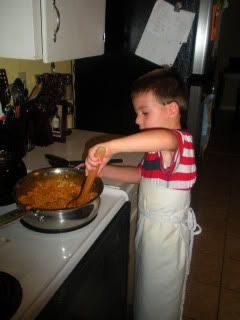 (note, the mixture was fully cool and the burner off before he stirred it)

Preheat the oven to 350 degrees.

Prepare a baking dish (I use a 8x11-inch glass dish) by spreading the taco sauce on the bottom of the dish. When the ground beef and shells are cool, fill the pasta shells with a tablespoon or so of the ground beef mixture and set into the baking dish.

Put a little salsa over each shell and then cover with crushed tortilla chips (hell yes I used generic...hubs hasn't graduated from law school yet!) and cheese. Bake for 20-25 minutes until the cheese is melted and bubbly.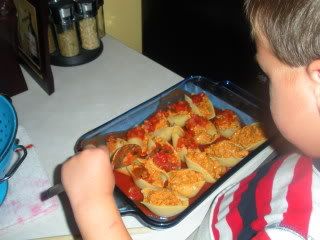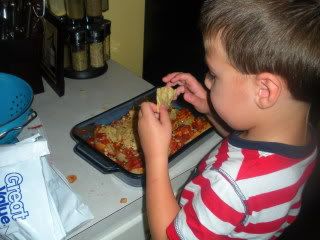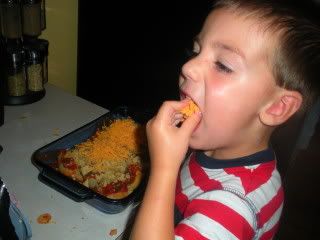 As C1 would say "MMMM, dat's good Momma!"