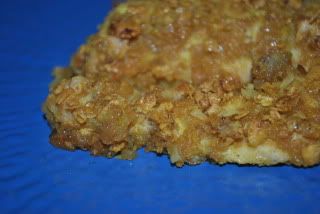 Oh, these are excellent. I wasn't paying attention one day and bought chicken fingers instead of chicken breasts. Instead of just using them instead, I thought I would make something special with them. They were a hit for lunch. They also froze really well, and were fast and easy to reheat later.
Sweet and Savory Citrus Chicken Fingers
makes about 20 strips
For marinade:
1/2 cup orange juice marinade
4 garlic cloves, minced
pinch of crushed red pepper flake
1 1/2 lbs. chicken breast tenderloins, or chicken breasts sliced lengthwise into strips
For coating:
5 cups frosted flake cereal
3/4 cup shredded, unsweetened coconut (if using sweetened, omit brown sugar)
1 T. light brown sugar
1/2 T. curry powder
Preheat the oven to 350 degrees.
Toss the chicken together with the orange juice concentrate, garlic and crushed red pepper.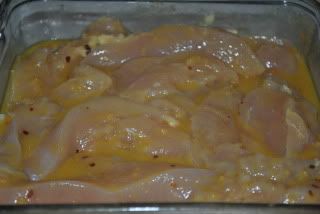 In a small bowl, beat the eggs.
In a large bowl, combine the frosted flake crumbs, coconut, brown sugar, curry powder. Before beginning, set aside half the frosted flake mixture.
Dip the chicken into the egg and then into the crumb mixture. Place coated chicken on a greased, or parchment lined baking sheet. Repeat, adding more crumb mixture as needed.
Bake for 20 minutes, or until crispy and baked through.
To freeze: bake, and then flash freeze in a single layer on a baking sheet. When frozen, place into a freezer bag. To reheat, either microwave or bake until warm.