These cookies look disgusting...but are so, so tasty. Ooey gooey and filled with chocolatey, coconutey, peanut buttery goodness. I could eat them all day. Thankfully C1 loves to make them for me. As yummy as they are, the absolute BEST part about them is that they are no-bake and only dirty one pot. Talk about convenient. They do take a bit of time in the refrigerator or freezer though, so plan accordingly. I recommend having them on hand at all times in case that craving hits. My son can do most of this recipe himself with supervision.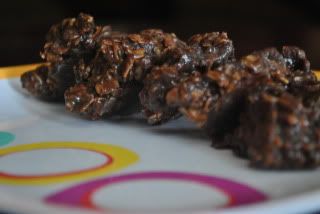 Cow Pie Cookies
makes 20 cookies
4 Tablespoons butter or margarine
3/4 cup brown sugar
4 Tablespoons unsweetened cocoa powder
1/2 cup milk
1/4 cup chunky peanut butter
1 teaspoon vanilla extract
2 cups rolled oats
1 cup sweetened, dried coconut flakes
Combine butter, brown sugar, cocoa powder and milk in a large saucepan (large enough to hold all of the oats and such). Bring to a boil and keep at a boil for 3 minutes or until the sugar is dissolved and the mixture looks smooth. Remove from heat. Stir in vanilla, peanut butter, oats and coconut. Drop in large spoonfuls onto a greased cookie sheet. Refrigerate for at least 4 hours, or freeze for 2. Keep cool as they start to melt when they get warm.