I've been on an Asian bender lately. Bulgogi, curries, you name it, I've made it. I've made some great recipes and some not so great ones. This stood out - it is easy, quick and flavorful.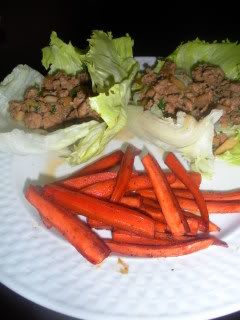 My family eats these up like nobody's business. It is also great cold for lunch the next day.
Asian Lettuce Cups
adapted from Kalyn's Kitchenserves 6-8
1 T. vegetable oil
3 T. minced shallots or red onion
2 T. minced garlic (3-4 cloves)
2 T. fresh ginger, grated (I keep my ginger, peeled, in the freezer and then just grate what I need)
2 lbs. ground turkey (all white meat is preferable)
4 T. soy sauce, low sodium
1 T. sriracha, or other chile-garlic sauce
1 cup chopped cilantro
1 small can water chestnuts, chopped
1/3 cup chopped peanuts
1 large head or 2 small heads butter lettuce (iceberg works too, but is harder to eat)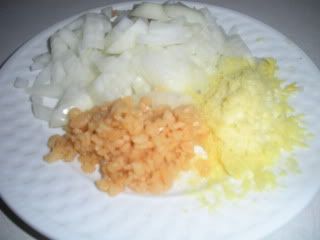 Heat oil over medium-high heat in a large saute pan. Add onions and cook for 2 minutes. Add garlic and ginger and cook for 1 minute more.
Add ground turkey to the pan, break apart and spread out with a wooden spoon. Add soy sauce and sriracha. Cook until turkey is browned and cooked through - about 5 minutes.
After turkey is cooked, add water chestnuts and chopped cilantro. Cook 1 to 2 minutes longer.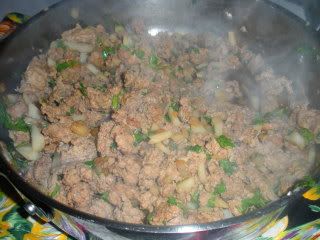 Serve turkey filling and lettuce leaves in separate bowls. To eat, fill lettuce leaves with turkey filling and sprinkle with peanuts.
I served this with roasted carrots and wheat berries