This got a resounding "WOW!" from my husband and son. The last bits were eaten over the sink before bed with the knife used to cut it.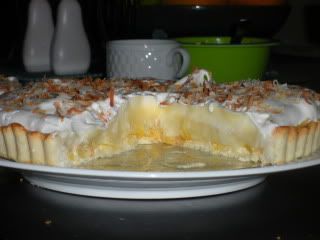 The original recipe called for shortening in the crust. Shortening in pie crusts is the way to go. I know butter would seem like the best choice, but shortening produces the flakiest, most flavorful crust. That being said, I used butter simply because I did not have the shortening on hand. Boy, it was a flavorful crust. It tasted like a shortbread cookie, and while it wasn't as flaky as shortening would have been the flavor worked well with the filling.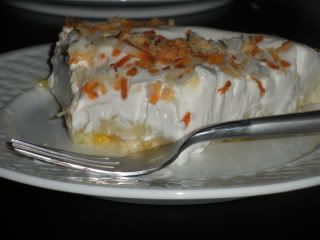 Coconut Pineapple Tart
adapted from Cooking Lightserves 8
Crust:
1 cup all-purpose flour, divided
3 T. ice water
2 T. sugar
1/8 tsp. salt
1/4 cup butter, cut into small chunks
Filling:
1 8 oz. can crushed pineapple in pineapple juice, drained and juice reserved
1/4 cup sugar
1 T. cornstarch
3/4 cup sugar
1/4 cup cornstarch
1/4 tsp. salt
1 1/2 cups low-fat milk
2 large eggs, lightly beaten
2 T. cream of coconut
1/4 tsp. coconut extract
1/4 tsp. vanilla extract
1 carton whipping cream
2 T. sugar
1/4 cup flaked, sweetened coconut, toasted
Preheat oven to 425 degrees.
To prepare crust, lightly spoon flour into dry measuring cups; level with a knife. Combine 1/4 cup flour and water; stir with a whisk until slurry is blended.
Combine 3/4 cup flour, 2 tablespoons sugar and 1/8 teaspoon salt in a bowl. Cut in butter with a pastry blender or two knives until mixture resembles coarse meal. Add slurry; mix with a fork until flour mixture is moist.
Press mixture gently into a 4-inch circle on heavy-duty plastic wrap, and cover with additional plastic wrap. Roll dough, still covered, into a 12-inche circle. Freeze ten minutes.
Remove one sheet of plastic wrap, and fit dough into a 9-inch tart pan coated with cooking spray. Remove top sheet of plastic wrap. Cut excess dough off edges of tart pan. Line dough with aluminum foil and arrange pie weights or dried beans on foil. Bake at 425 degrees for 14 minutes or until lightly browned. Remove pie weights and foil from crust; cool crust on a wire rack.
To prepare filling: put pineapple, reserved juice, 1/4 cup sugar and 1 tablespoon cornstarch in a small saucepan. Heat over medium-high until thickened. Spoon into prepared crust. Cover with plastic wrap and refrigerate 1 hour until set.
In a saucepan, combine 3/4 cup sugar, 1/4 cup cornstarch and 1/4 teaspoon salt. Add milk and bring to a slow boil. Cook one minute, stirring with a whisk. Gradually add about 1/3 hot custard to beaten eggs, stirring constantly with a whisk. Return egg mixture to pan. Cook two minutes or until thick, stirring constantly. Remove mixture from heat; stir in cream of coconut and extracts. Spoon mixture on top of pineapple mixture. Cover surface of filling with plastic wrap and chill until set (about two hours).
In a large bowl, beat whipping cream and sugar until firm peaks form. Spread evenly over filling.
Sprinkle with toasted coconut.