In the name of time, I decided to forgo making mandarin pancakes and used flour tortillas instead. It made for a quick and easy dinner perfect for busy weeknights.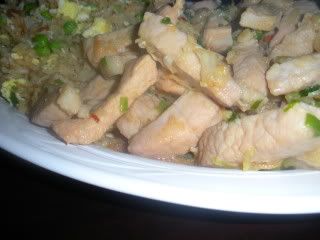 They are very flavorful and the use of pork tenderloin leaves them low in fat. Skip the tortillas and they are low in carbs as well.
Quick and Easy Mandarin Mu Shu Pork
serves 6
12 8-inch flour tortillas
6 T. reduced sodium soy sauce
2 T. corn starch
1.5 lbs. pork tenderloin
2 tsp. cooking oil
1 tsp. hot chili oil OR crushed red pepper flakes
3 cloves garlic, minced
2 cups packaged, shredded cabbage with carrot (coleslaw mix)
1 cup fresh bean sprouts
1/2 cup sliced green onions
plum sauce to serve
Wrap tortillas tightly in foil. Heat in a 350 degree oven for 10 to 15 minutes or until warm and soft.
Meanwhile, in a medium bowl stir together the soy sauce and cornstarch. Trim fat from meat. Cut meat into bite-size strips. Add the meat to the soy mixture; toss to coat. Let stand at room temperature for 10 minutes.
Pour cooking oil and chili oil or crushed red pepper into a medium skillet. Heat skillet over medium-high heat. Stir-fry meat and garlic in hot oil for 1 minute. Add 1 cup of cabbage, the sprouts, and green onions. Stir-fry for 3 to 4 minutes or until meat is slightly pink in the center and vegetables are crisp tender. Remove from heat.
Place the remaining cabbage in the centers of the tortillas. Spoon the pork mixture over the cabbage. Roll up burrito style. Serve with the plum sauce.