With Summer in Louisiana dragging on like it tends to do most days call for light, cool recipes. Chicken salad is a favorite around here. I tend to make tons of different variations hoping for something better, but I always come back to this recipe. I was supposed to take a pretty picture...but it was eaten before I could. It is that good.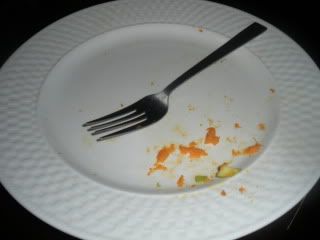 This is what was left after Dr. hubs and C1 had their way with it.
I use a rotisserie chicken because it is easy. If you are in the mood and don't mind heating up the house, don't hesitate to roast some chicken breasts or hell, even a whole chicken! Don't say it took too long, though, because I churn this thing out in 5 minutes flat.
Curried Chicken Salad
serves 4
1 rotisserie chicken, any flavor
1 15 oz. can mandarin oranges
15 grapes, halved
1/4 cup chopped nuts (I tend to favor almonds, but cashews and pecans are both excellent)
2 stalks celery, halved lengthwise and chopped
1/2 cup mayonnaise (use the real stuff)
1 1/2 tsp. curry powder
1 1/2 tsp. brown sugar
2 t. parsley (don't measure, just throw some in)
salt and pepper to taste
Begin by pulling all the meat off of the chicken. Use only the white meat or a combination of white and dark. Throw the carcass in the freezer for stock.
Add chicken, oranges, grapes, nuts, and celery to a large bowl. In a smaller bowl, combine mayonnaise, curry powder, brown sugar, parsley, salt and pepper. Add mayonnaise mixture to chicken mixture. Combine and refrigerate for at least 30 minutes (a few hours is best).
I like to have it on toasted whole grain bread, dressed with spinach and honey mustard.