It is embarrassing to look at the date of my last post. Life sure has a way of getting in the way of blogging sometimes (those kids, man, they sure like to hang around!) We've also started our first year homeschooling. Factor in a one year old who will just not.sit.still.ever. and a husband in law school, it all adds up to a mama who doesn't have much motivation to sit and blog. Cooking has been more about sustenance than art.
I have missed it. Cooking gives me an outlet, and blogging gives me even more of one. There is something about having some good music on, a glass of wine and a big knife that I just adore.
So, Dear Readers....or probably more like Reader, let us get to it! I have so much that I want to share with you and so many recipes that I've been dying to make.
--
This is my 3-year old's favorite thing in the entire world. The possibilities are endless with the different fillings. My favorite is a chicken, spinach and fresh mozzarella version while my sons like the basic pepperoni, sauce and cheese version.
Everyone has their own favorite pizza dough recipe. I make mine in the bread maker for ease and consistency.
Crusty Pizza Dough
adapted from The Bread Machine Cookbook
1 1/3 cups water
2 T. extra virgin olive oil
3/4 tsp. salt
2 cups bread flour
2 cups whole wheat flour (I like stone ground)
1 tsp. Italian seasoning
2 tsp. yeast
Add ingredients in order given to bread machine pan. Start dough cycle.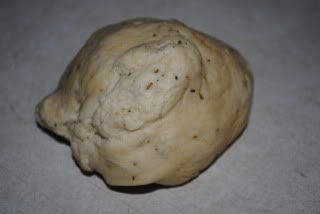 Pull off small balls, just enough to fit in the palm of your hand and roll into a circle about 6 inches in diameter.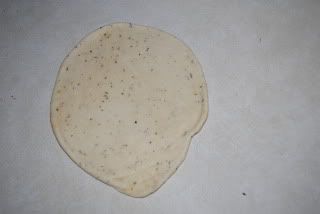 Add 1 T. of your favorite marinara or pizza sauce - jarred is fine. I've also used pesto and alfredo sauce before with wonderful results. Let your imagination work on this one.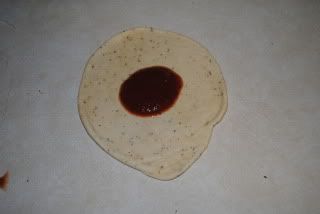 Add 1 T. of cheese. The pictures show a plain, pepperoni pizza pocket. I've used a mozzarella, but shredded it myself because I find that it just melts better. If I am feeling particularly decadent, I will go for fresh mozzarella and Parmesan. oh my yum.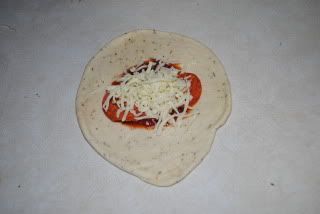 Now is where you can really let your imagination flow. Fill it with whatever you like on your pizzas. Olives, vegetables, chicken, ham, pepperoni, sausage....just remember that you have to seal the pizza pocket after you are done filling, so don't go too crazy. I've opted for simply pepperoni in this one, but my favorite includes cooked chicken, some fresh baby spinach, a basil leaf and fresh Parmesan.
After you are finished filling it, fold it in half and seal the edges with a fork.
Place sealed pockets on a baking sheet. Make sure your oven is preheated to 400 degrees and bake for 18-20 minutes or until golden and crispy. The seals will most likely break open a bit and spill some filling out, but they are still really tasty.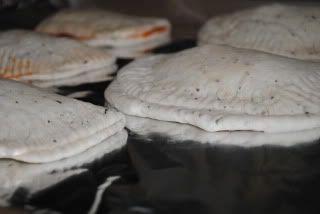 These are great for cooking with kids. My 3-year old can make these almost by himself. He loves to put the filling in and seal them up.
I usually serve them with extra pizza sauce for dunking.