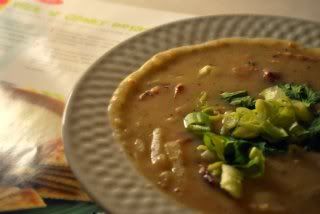 My son really loves to cook. A few months ago, I bought him a kids cookbook. It's great except for the fact that most of the non-sweet foods are pretty bland...I guess that is why the recipes are considered kid food. I had a bunch of red-skinned potatoes leftover that needed to be used or thrown. I decided to make the potato soup in the kids cookbook. The picture in the book looked...white...and rather tasteless. I decided to jazz it up a bit, but still keep the recipe simple so he could help. My additions were simple but made for a really great, fast soup.
If you don't have an immersion blender, you can pour half the soup into a blender and then add it back to the pot. Be very careful when doing this. Hot liquids tend to explode out of the blender. Trust me on this. I would rather move than scrape black bean soup off of the ceiling again.
As for the sausage in the recipe, you're free to use what you wish. I used a pre-cooked habanero and monterey jack chicken sausage, but you could use a regular smoked sausage or even italian sausage. I would be interested to try vegetarian sausage crumbles as well.
Spicy Sausage and Potato Soup
serves 6
2 links sausage (if using uncooked sausage, remove from casing), chopped
1 1/2 lbs. potatoes, diced
1 onion, chopped
1 celery stalk, chopped
1 clove garlic, minced
2 cups chicken stock
3 shakes hot sauce
1/4 tsp. black pepper
3/4 cup milk
1 T. butter
green onions and parsley to garnish
In a large saucepan over medium heat, brown the sausage. Add the potatoes, onions, celery, garlic, chicken stock, hot sauce and black pepper. Cover and simmer until the potatoes are tender.
When potatoes are tender, remove from heat. Run an immersion blender through it a few times until it is smooth, but still pretty chunky. You just want to make it kind of creamy. Add the milk and butter, stir until butter is melted. Serve with green onions and chopped parsley.