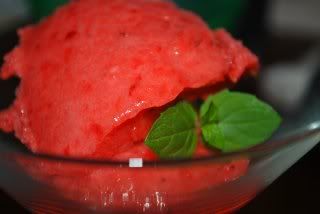 If this doesn't just define Summer, then I don't know what does. It's so refreshing and the berries are so perfectly ripe. It is so much healthier than ice cream because it is essentially just fruit and a bit of natural sweetener, yet kids gobble it up. The bright red color is beautiful. This could go easily from a backyard BBQ to a fancy dinner party with just a small change in presentation.
You could make this without an ice cream maker, but I find that sorbets made by just blending the fruit and then freezing it are more granular than ones made with ice cream makers. You make the call. I, for one, know that my ice cream reservoir will remain in the freezer this summer just for this sorbet.
Strawberry Sorbet
1 lb. strawberries, hulled and chopped (preferably organic)
1/2 cup organic agave nectar
1 T. fresh lime juice
Make sure the ice cream reservoir is completely frozen.
Hull your berries and roughly chop them. Add the berries, along with the agave nectar and lime juice to a blender. Blend thoroughly until smooth.
Add the berry puree to the ice cream reservoir and process according to the manufacturers instructions. When finished, put in the freezer for an hour or two to continue firming.
To make without an ice cream maker:
Blend berries as instructed with agave nectar and lime juice. Place in a freezer safe, plastic or glass container and freeze until firm, stirring periodically.