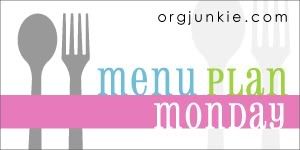 I can already tell that this is going to be one hell of a week. I was up until nearly 3 this morning with random allergy attacks and sinus headaches. I've been battling a sinus infection all week and I'm still dealing with residual head-poundies. I sit here pounding coffee in hopes that it might give me just a tad bit of patience with my kids today, but I realize I might be fighting a losing battle and am considering shipping them to their grandmother's house for the day. Ah. Sweet reprieve. I'm also considering actually doing my Spring cleaning this week. I have lists and lists that I've developed from Martha Stewart's Homekeeping Handbook...I think I might be over my head on this. The first thing I noticed that told me this book wasn't for me was the fact that actually
folded
her fitted sheets...wait...you mean not everybody just rolls them up into a rectangular-ish form and stuffs them in the linen closet?
Needless to say, the menu this week includes a lot of slow-cooker and prepare-ahead meals. My favorite kind!
Monday: 3 bean turkey chili in the crockpot, jalapeno cornbread
Tuesday: Eggplant parmesan, salad, french bread
Wednesday:
Roast
, mashed potatoes, salad
Thursday: Green chili turkey burgers, sweet potato fries
Friday: Buffalo sweet potato and blue cheese grilled pizza, caprese salad
Lunches:
Taco Roll-Ups
Chicken, Spinach and Feta Calzones
Buffalo Chicken Wraps
Breakfasts:
Baked Oatmeal
Banana Bread
Berry Scones
You can find more menus
here
. Have a fantastic week everyone!