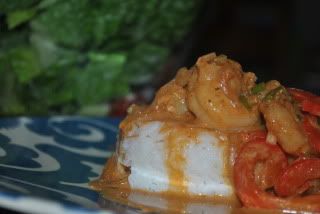 I can't extol the virtues of this enough. I could probably eat it 3-4 times a week and be completely happy. Shrimp is low calorie, high in flavor and cooks fast! It is really versatile as well, from a simple grilled shrimp salad to this flavorful, fiery shrimp curry. The possibilities are really endless.
The comes together fast. 15 minutes from start to finish. The most time intensive part is cooking your accompanying rice or tossing a salad. It is probably faster than sitting in the line at the drive-thru and MUCH more figure friendly.
This is a pretty basic coconut curry and would be a perfect slate for any of your favorite vegetables. Of course, you can just leave the vegetables out but they provide bulk and filling fiber without many calories. Opt for the veggies, your waistline and heart will thank you. Possible additions: sugar snap pea pods, julienned carrots, parboiled sweet potatoes, eggplant, etc. etc. etc. You could even change up the protein and make it with chicken, though I am partial to the shrimp. I love the subtle sweetness it provides.
Coconut Curry Shrimp
serves 4
1 tablespoon canola or peanut oil
1 red bell pepper, julienned
1 medium onion, halved and sliced
4 cloves garlic, minced
1.5 tablespoons thai red curry paste
1 pound large shrimp (20-30 works fine)
6 oz. light coconut milk
2 teaspoons fish sauce (optional, but it really makes the dish)
5 green onions, chopped
1/4 cup cilantro, chopped (optional)
kosher salt to taste
In a large skillet or wok, heat oil over medium-high heat. Add bell pepper and onion and saute until just starting to get soft, about 2 minutes. Add curry paste and saute 1 minute until it just starts to get fragrant and is well incorporated. Add shrimp and garlic, season with a few pinches of kosher salt and saute about 2-3 minutes. Add coconut milk and fish sauce and mix well. Reduce heat to medium and simmer 2-3 minutes or until shrimp is cooked through. Remove from heat and mix in green onions and cilantro.
I served this with jasmine rice and a green salad.
Enjoy!