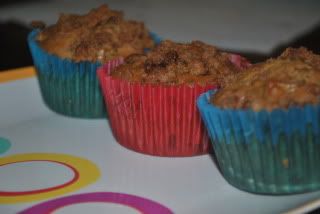 Every week, it is tradition that I make a big batch of muffins. They turn into quick breakfasts and easy snacks.
I found this recipe when I was planning my menu last week and knew it would be perfect. Sweet enough to fight that mid-afternoon craving and hearty enough to make a breakfast that lasts until lunch. The baby in the family ate like 17 of them in one sitting. The original recipe called for all white flour, twice the butter and twice the sugar. I reduced the butter and sugar, and added whole wheat flour and hoped for the best. The outcome was still a sweet, delicious muffin with a tender crumb. The topping is optional, but makes them crunchy and really homey.
Apple Pie Muffins
makes 18 large muffins
Batter:
1 cup whole wheat flour
1 1/4 cup all-purpose flour
1 tsp. baking soda
1/2 tsp. salt
1 egg
1 cup milk
1/4 cup butter or margarine, melted
1 tsp. vanilla
1 cup packed brown sugar
2 cups diced apples
Topping:
1/2 cup brown sugar
2 T. butter or margarine, melted
1/3 cup flour
1 tsp. cinnamon
Preheat oven to 375 degrees.
For batter:
Whisk together egg, milk, melted butter and vanilla. Stir in sugar. Without mixing, add flour, baking soda, salt and apples. Stir until just combined. Do not over-mix.
For topping:
Combine sugar, flour and cinnamon. Mix in melted butter until crumbly.
Fill muffin cups 3/4 full. Sprinkle with topping.
Bake at 375 for 18-20 minutes.