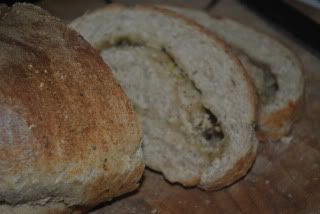 I needed something to round out our meal last night and thought a nice bread would work just fine. I wasn't in the mood to deal with bringing the kids to the supermarket and I was sick of plain old whole wheat bread. My husband's favorite bread is garlic bread, so I decided to make a variation of that. What I came up with should probably be considered a World Wonder. I had to physically restrain myself from eating half the loaf. It made the house smell amazing too. I used the bread machine which made the entire recipe minimal as far as effort goes. This will be on our menu often.
This was the scene in my kitchen the entire time it was baking.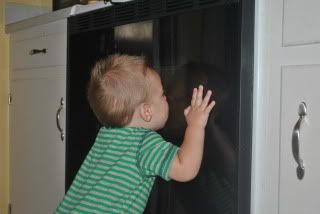 I won't lie and say that I wasn't doing the same thing.
Garlic Swirl Bread
makes 1 large loaf
Whole Wheat Bread
:
3/4 cup water
3 T. butter or margarine, softened
1 egg
2 T. sugar
1 tsp. salt
2 cups bread flour
1 cup whole wheat flour
1 1/2 tsp. yeast
Add to bread machine in the order listed, taking care not to wet the yeast. Set to dough cycle and let finish.
Garlic Swirl ingredients
:
3 T. butter or margarine, melted
4 cloves garlic, minced
1/4 cup grated parmesan cheese
1 tsp. italian seasoning
combine garlic, parmesan cheese and italian seasoning. Set aside.
Preheat oven to 450 degrees. Grease a 9x5 loaf pan.
When dough cycle is complete, remove from bread machine and place onto a lightly floured surface. Roll out into a rectangle no larger than 9 inches wide. With a pastry brush, evenly coat dough with melted butter. Sprinkle with garlic and parmesan cheese mixture. Roll starting with the long side. Pinch the ends closed and place into greased 9x5 loaf pan. Bake 10 minutes at 450 then reduce heat to 350 and bake for 30 minutes longer, or until bread is golden and sounds hollow when tapped.
You should probably let this cool completely before slicing, but I'm not really into following rules. My swirl separated because I cut it when still boiling lava hot. It was worth it. SO good.