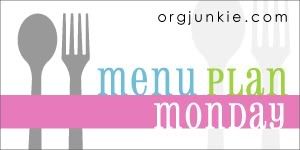 It is that time again, folks. Monday. The start of a whole new week. My husband found a job for the summer so a huge stress burden has been lifted from my shoulders and once again, I can see the week for what it is: a beautiful blessing. The family is healthy this week (cross my fingers) and the weather looks promising. We have a lot of fun things planned.
Monday:
turkey sloppy joes
,
whole wheat hamburger buns
, broccoli slaw, baked sweet potato fries
Tuesday: tilapia curry stew, jasmine rice
Wednesday: beef kheema, brown rice,
balsamic roasted carrots
Thursday: barbacoa from
last week
repurposed into bbq beef sandwiches, salad, grilled veggie kebabs
Friday:
Root vegetable cobbler with chive biscuit topping
(lightened, recipe posted soon), salad
My lunches this week include:
thai roll-ups
and
veggie wraps
Our breakfasts include:
apple pie muffins
,
mango madness fruit salad
and fluffy whole wheat pancakes with triple berry sauce
I hope everyone has a blessed and safe week.